The crisis in the All Progressives Congress took another shape on Wednesday, June 24, as President Muhammadu Buhari support Victor Giadom as the acting national chairman of the ruling party.
According to the appeal court's verdict which upheld Adams Oshiomhole's suspension, the NWC appointed the deputy national chairman, South, Sen. Abiola Ajimobi, as acting chairman.
However, due to Ajimobi's ailment, the national vice-chairman, South-South, Prince Hilliard Etta, who was appointed to act on Ajomobi's behalf.
The NWC had earlier overruled Giadom who had declared himself as the acting chair of the party, following Oshiomhole's suspension.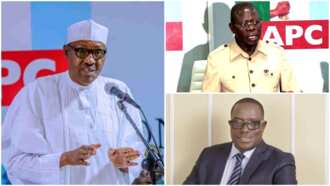 However, against the position of the NWC and Oshiomhole, President Buhari recognized Giadom as the ruling party's acting chair.
The president also said he would be attending the virtual meeting called by Gaidom on Thursday, June 25.